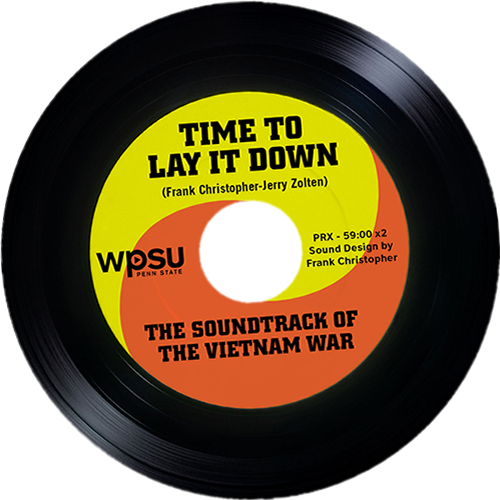 Vietnam... a war with a rock 'n' roll soundtrack. But there's so much more to that soundtrack than most of us realize.
Time to Lay It Down ~ The Soundtrack of the Vietnam War is a two-part audio documentary that explores the music that expressed the deep divisions about the war in American society, and provided a life line for GIs in Vietnam, as well as a source of healing when they came home.
Part 1: The Battle of the Airwaves
Explores the complex soundtrack of the Vietnam war as it played out at home, and takes listeners on a musical journey that begins when few Americans had even heard of Vietnam, to a time further down the road when music exposed the fractures that divided the country.
Loading the player...
Part 2: The Soundtrack in Vietnam
Presents the soundtrack of the Vietnam War as it was heard in Vietnam, a discordant mix of radio broadcasts, bootleg music, and songs created and sung by Americans and Vietnamese, all against a backdrop of terrifying combat sounds, clashing with voices from the American government promising victory.
Loading the player...
Interview on The 11th Hour, WRTA Altoona
Loading the player...
Credits & Support
Artist Voices
William Bell
Chip Dockery
John Fogerty
Marvin Gaye
Hershel Gober
Merle Haggard
Kris Kristofferson
Country Joe McDonald
Graham Nash
Tom Paxton
Noel Paul Stookey
Peter Yarrow
Soldier Voices
Doug Bradley
Ron Curtis
Art Flowers
Lou Frank
Roger Steffens
Production
Frank Christopher, Producer/Writer/Sound Designer/Editor
Jerry Zolten, Producer/Writer/Host
Dante DiAndrea, Editor
Kennedey Bell, Assistant Editor, Researcher
Mickey Klein, Audio Mixer
Jen Bortz, Audio Recordist
Shirley Irvin, Transcription
Advisers